We at Reston Glass take great pride in the kind words and referrals we often hear.  We know that for every 20 happy customers, there may be one with some suggestions on how to improve.  We want to hear all comments complimentary or with suggestion for improvement.
We encourage you to add your Reston Glass reviews below to tell us what we are doing right and/or what could be improved.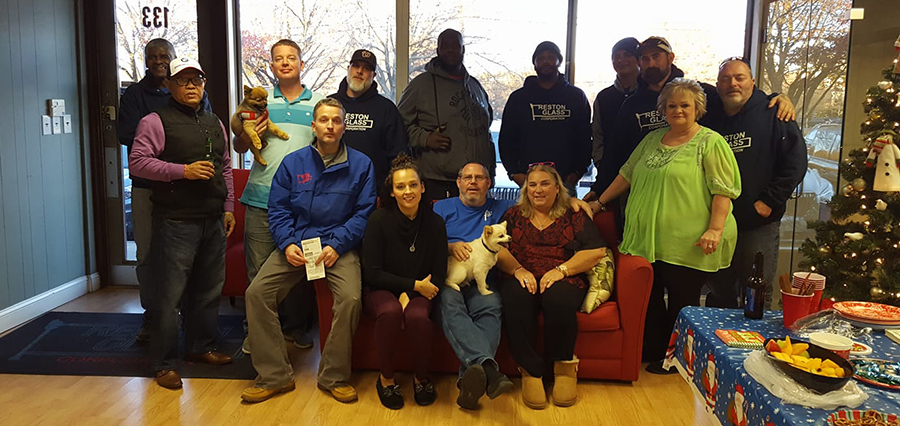 Reston Glass Corporation
Average rating:
49 reviews
Alexis & Michael McPoland
Apr 4, 2022
Top Quality
City & State:
Ashburn, VA
Our experience was excellent-from the initial service call to glass measurements by Todd to installation of glass replacement & glass cleaning by Bett and Peter. They were all very professional & knew their craft. We would highly recommend this business.
Jul 19, 2021
Custom Cut Glass
I called Reston Glass to see if they could cut a piece of tempered shower glass for a shelf in our home. I accidentally mis-measured the glass and it didn't fit. They were able to shave down the sides & it fits perfectly. I definitely recommend them and would use them again.
Jan 22, 2021
The Best
I can't say enough about these guys... I've been using them both professionally for both my shops & personally. Friendly, knowledgeable, professional & local... what more can you ask for?



(and don't fall for the random web adds that sound like them... RESTON GLASS... there's only ONE!)
Jun 13, 2020
Mirror Replacement
Excellent work replacing a mirror that I bought from a store going out of business in SoHo. Dumb me dropped it within an hour of buying it. Thankfully, Reston Glass and Home Repair was able to get me a quality replacement installed without damaging frame AND for a fraction of what competitors were pricing on Yelp! Quick and professional- definitely my GO TO moving forward!!!!
Jun 9, 2020
Extremely Professional
Awesome customer service and extremely professional. Highly recommended ?
Dec 23, 2019
Look No Further - Reston Glass is for You!
City & State:
Herndon, VA
Our decision to use Reston Glass was easy. All it took was one visit to the friendly office and we knew we were in the right place. Kind, honest people and remarkable quality of work. We got estimates from other companies but you could tell it was just a "job" to them. Reston Glass is a family and I'm so happy we supported them with our business.
Oct 3, 2019
Great Source
City & State:
Centreville, VA
Friendly, helpful and had what the big box stores were unable to offer. Will definitely keep them as a great source for home or bath products.
Apr 5, 2019
Excellent Work
City & State:
Herndon, VA
They are the epitome of a family-owned and run business that takes pride in all they do. Friendly service and quick to complete excellent work for a reasonable price. Thank you Reston Glass!! We'll be back!
Mar 26, 2019
New Windows
City & State:
Ashburn, VA
Greatest group came and installed my windows. I recommend them for everything.my mom is going to have shower installed after how they treated me.
Mary Lou Hostetler Swiscoski
Dec 28, 2018
Bathroom Mirror
City & State:
Northern Virginia
Did our small job of bathroom mirror with professionalism and quality workmanship!
Nov 8, 2018
Ethical, outstanding business practices
City & State:
Great Falls, VA
Maybe the least helpful (to you) reviews you'll read, but since integrity and business practices are so important in all my assessments, I'll add a few words here. I signed a contract with Reston Glass, great guy, straight-shooter. Happened to be lowest estimate/bid, I had complete confidence after meeting him and discussing approach, details. Next day I find out my wife (travelling West coast) has done research and is pre-disposed to another company. Just bad/no marriage communication this time - separate issue!



Next day - after Reston Glass has placed order with glass supplier and we're on their installment schedule, I have to call to see if he'll cancel project. He's disappointed and has some questions for me - clearly he knows he's the best for the job. BUT, he jumps through admin./other hoops to cancel contract and refund me. It likely cost him some relationship issues with his supplier.



All our work going forward will go to Reston Glass (assuming results are what I fully expect they will be). Our's was a palladium window, so not standard specs., but what I can tell you is these guys are more than ethical, professional - and really helped me out of a jam that no business should have felt obligated, much less willing to do. I appreciate that and look forward to working with them going forward, if they will take me as a customer!! Thanks, guys.
Jul 26, 2018
Broken Window Pane
The Reston Glass rep showed up promptly near the *beginning* of the 3-hour window they gave us. He was cordial and professional, and he promptly replaced the broken pane in our window. He then carefully cleaned the window and told me how long to wait before painting the frame, or doing anything else that could hinder the repair job.
Apr 21, 2018
Frameless shower
Reston glass installed a frameless shower at my new house. The estimators were knowledgeable and answered all of my questions. The shower arrived in the time they said and the installation was flawless. Would highly recommend them to anyone.
Feb 28, 2018
Most Helpful
City & State:
Manassas, VA
I have used The folks at Reston Glass a few times now. Each time I have found them to be most helpful and responsive. Their knowledge and suggestions helped me decide what type of replacement windows to get. Installation was smooth, and I am loving my new windows. In the past I used them for my frameless shower, and replacement glass for my coffee table. The glass needed to be beveled and cut into a triangle. It fit perfectly and matches the other 3pieces. You would never know it was a replacement. I highly recommend this company.
Sep 12, 2017
Amazing Service
City & State:
Northern Virginia
Jacob was very helpful in getting me a custom glass top for one of my trunks. Highly recommend!